Brooklands Museum and Brooklands Innovation Academy
Tamalie Newbery, CEO of Brooklands Museum, is very clear about how much can be achieved through meaningful partnership between organisations with shared values.  
Following April's UK Heritage Pulse survey on partnerships, we spoke to Tamalie about the Brooklands Innovation Academy. The Academy is a partnership project between Brooklands Museum, academy chain the Bourne Education Trust and Well North Enterprises who run the national Science Summer School. With a focus on 'learning by doing' the Academy leverages the museum's rich history of innovation, engineering, and science to provide practical experience for Britain's future engineers and scientists.
Now in its second year, the programme has attracted significant sponsorship as one of the best learning student STEM events in the country and was part of why Brooklands Museum and Bourne Education Trust just won the Learning Programme of the Year Award at the 2023 Museums + Heritage Awards.
How did a positive approach to partnerships contribute to the success of this project? And what can other organisations learn from the Brooklands Innovation Academy model?
Be open to collaboration – but choose longer term partners carefully
Tamalie and the Brooklands Museum team are part of a number of networks and joint initiatives. They respond willingly to requests for information sharing, frequently offering advice and facilitating conversations between organisations.
But they are very selective when it comes to entering into longer term partnerships and take time to ensure that there is a real alignment of values and purpose between partners. Crucially, the partnership needs to enable them to do something greater than they could achieve on their own.
The idea for the Brooklands Innovation Academy was developed through a series of conversations over an 18-month period. Each partner brought their particular ambitions to the discussion:
The museum was looking for ways to engage with younger people beyond a one-day visit.
Bourne Education Trust were also looking for something longer term, wanting to build student confidence and commitment to learning with organisations who could commit to an ongoing programme.
Finally, the Science Summer School Programme were willing to expand their existing programme of inspirational events to get children into STEM.
Once a partnership is established, make a commitment and go 'all in'
When they were clear that their goals were aligned, the Brooklands Museum team made a whole-hearted commitment to the partnership. They were clear about the resource and time they could commit, and knew they could trust the other partners to do the same.
This ongoing investment of time to build the relationships is crucial, as Tamalie explains that the more you put into a partnership, the more you will get out of it. There is nothing worse than a partner who isn't committed or delivering on their side of the 'deal'.
Win organisational buy in and commit additional resource where required
Having created the partnership framework, Tamalie was ready to get her team on board. Again, the clarity of how the project aligned with Brooklands Museum's vision and what it would be able to help them achieve, meant it was easy to show its value to staff.
The partnership organisations were flexible and innovative when it came to staffing, with a Head of Science from one of the Bourne Education Trust schools able to be seconded to the museum to help get the programme underway. With partial funding, the museum were also able to recruit a STEM Learning and engagement Manager to support the delivery, knowing that the additional workload could not be handled by the existing team.
The work done initially to define the partnership meant that staff in the three organisations were clear about what was required and able to run the programme smoothly from the start, and ensure the success of the first year.
Continue to check in and innovate throughout a partnership programme
At the inaugural event in November 2022, more than 400 students took part in 21 different workshops and events. In October 2023, hundreds of students will come together, with Professor Brian Cox leading the event for a second time. And now, in addition to the main event, the programme has grown to include a series of precursor events focused on a specific industry or theme, supported by other businesses.
Tamalie says that it still takes a lot of work to maintain and build relationships with the partners, particularly as new sponsors and collaborators come on board, but this is crucial to the sustained growth of the Academy.
The learnings are beginning to impact on the day to day running of the museum. The team understand more about which activities are best for building the skills and attitudes of young people and are looking at how they can apply this to students visiting just for a day.
Tamalie has plans for another partnership project, with a series of community groups coming together to showcase the stories of the museum in Brooklands Stories Uncovered.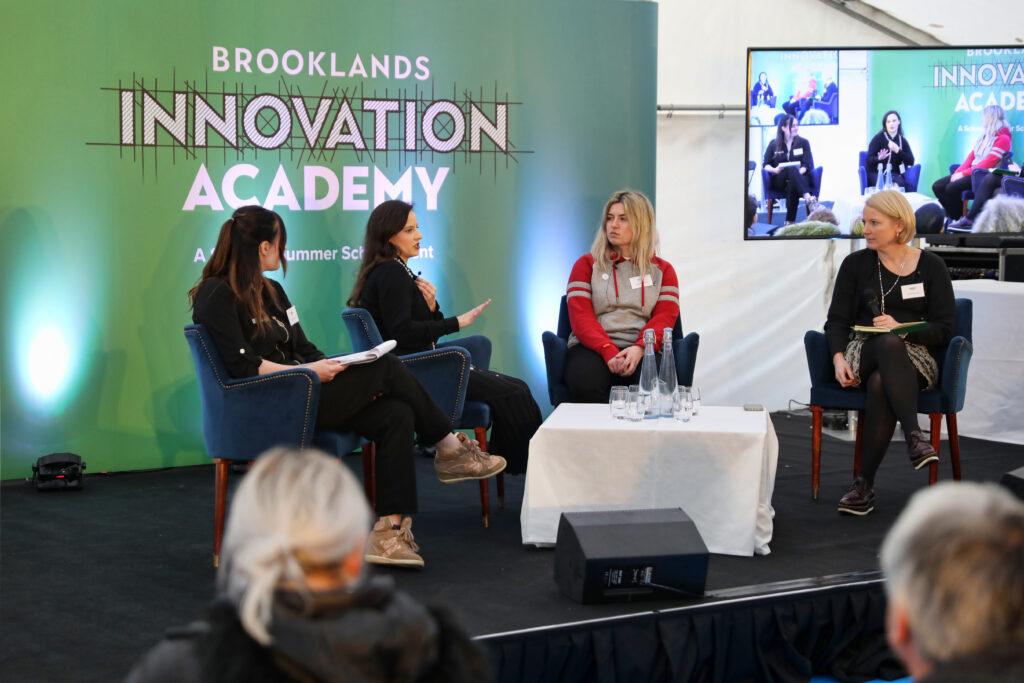 Top tips for building a successful partnership
What are the key things we can learn from the creation of the Brooklands Innovation Academy?
Understand your own strategic priorities and only enter into partnerships where there is a strong alignment in values and vision.
Take the time to understand the partners' ambitions, needs and values as well as your own.
If you agree to a partnership, be a trustworthy partner and go all in.
Commit resource and make sure your wider team are on board and clear on what is required.
Continue to innovate as the partnership evolves, and don't be afraid to change things.
We want to hear from you
Would you be willing to share your advice on what makes for a successful partnership between two or more organisations, on camera? It takes 30 – 60 seconds and if you have a webcam or Smartphone, you can record it now.
We may share your clip when publishing future results.