In our final week of Instant Pulse, we asked the sector the following question:
How much do you agree or disagree with the following statement?
"Audiences and customers are embracing the new possibilities that our technological advances and digital experiences can offer them."
How did you respond?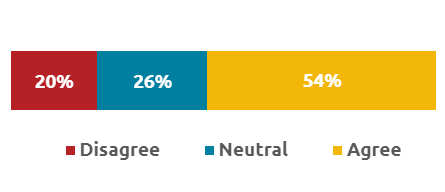 What else did you tell us?
"This is true in some ways but audiences and customers still love to visit – nothing substitutes for absorbing the essence of a place by being there."
"Only very slowly and still need a lot of live support to solve difficulties, especially when it involves using their own old equipment or using in a way they haven't done before."
"We have seen a bit of a drop off with digital engagement apart from in ticketing. Many of our audiences enjoy a relatively tech-free visit to our heritage garden as frees them from a certain amount of tech overload."
"There is a spectrum of digital/tech friendliness among our members and we have to work with that."
"It is the management of the sites that present the problem. They often see such implementation of this as devaluing the heritage and creating a 'Disney-esque' theme park. It is not 'pure'."
"Depends on age and demographic I think particularly on nature heritage sites."
"Approaches to digital are definitely being met with more confidence from the audience overall. Especially with register forms and QR code tours."
"The levels of participation in some areas of heritage have massively increased. Adapting has meant we are now serving multiple audiences often with the same budgets. The question is are we delivering quality experiences as we are stretched so thin."
Get involved for our final week of Instant Pulse!
If you're part of the UK Heritage Pulse panel, you will receive next week's question in your inbox on Wednesday. If not, why don't you register to be part of UK Heritage Pulse today: